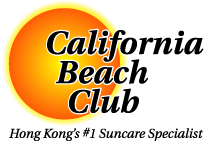 Indoor Tanning at the Beach:
California Beach Club has been Hong Kong's suncare specialist since 1999, having delivered thousands of tanning sessions to thousands of satisfied customers. You can trust our extensive experience with international and local clients. We are Hong Kong's largest and longest operating solarium (3,000 sq ft) with the most and most advanced tanning machines; 10 machines, 5 beds and 5 verticals.
Equipment: We have the most indoor tanning machines, widest variety of options, and most advanced tanning beds and verticals in HK.

Staff:&nbsp All of our team members must pass our strict training programs, including daily pre-shift refresh to ensure the highest and safest standards anywhere.

Customized: Thanks to our Centrally Controlled Computer Management System, we monitor and control your indoor tanning to the minute. Charges are based on usage, maximizing your indoor tanning value.

Lotions from the Best: We feature a wide range of indoor tanning lotions from some of the best names in the business. We offer California Tan, Designer Skin, Emerald Bay and more...
Safety First: Our Centrally Controlled Computer Management System also allows our front desk to monitor all sessions and provide immediate in-room intercom assistance.
Comfort: Our climate-controlled environment, as well as OEM recommendation exceeding equipment maintenance, ensure maximum comfort & equipment performance.