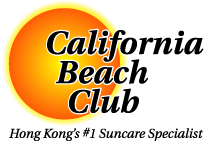 Indoor Tanning Lotions at the Beach:
We carry indoor tanning lotions from California Tan, Designer Skin and Emerald Bay to help you get and keep your best tan possible. Here we try to help explain what the lotions do, and why they help pay for themselves.
Moisturization: The tanning process dries the skin thereby accelerating the normal skin exfoliation cycle. Indoor tanning lotions are richer than regular lotions helping to prevent the skin dehydrating while tanning. Trying to replace the moisture after tanning is too late.

Nourishment: Indoor tanning lotions are filled with lots of yummy ingredients to help feed the melanin producing melanocytes. Think of them as nutrition for your skin.

Anti-aging Benefits: Many indoor lotions, but not all, help to prevent the skin aging process by including skin toning, plumping ingredients, and/or anti-oxidizing properties which can help reduce free-radicals.

Anti-Bacterials: The after-tan odour is stopped at the source with products including anti-bacterials. These products will also have lower levels of fragrance, leaving a lighter, more pleasant aroma.

Bronzers: Bronzers are similar to self-tanners and can include DHA and/or cosmetic bronzers. These mild artificial colours help you achieve a tanned appearance more quickly without excessive UV exposure. DHA takes 1 – 8 hours to set, and can last around a week. Cosmetic bronzers appear almost immediately, and last around 3-4 days. Caution should be used with colour transfer to clothing and your environment prior to your first shower after use.