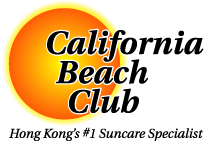 Prolonging your Self Tan:
Hopefully the results were everything you were hoping for. If you noticed any lighter spots, try rubbing in a tinted moisturizer that will add back some colour, but not too much. Trying to fix with your original self tanning solution will probably add back too much colour, trading the 'too light' problem with a now 'too dark' problem.
If you already read the section on prolonging your spray tan, there is little to no difference beyond this point. But if you're bored, please continue...
There are some things you can avoid, and some things you can do, to keep your gorgeous self tan as long as possible.
Avoid...
Chlorine & Salts: Trips to chlorinated pools, jacuzzi, steam rooms, salt water, and even mud baths may remove the colour from your skin much like how they remove colour from clothes. If you must hit the hot tub, try to keep your time to a minimum, and rinse as soon as possible.

Other Salts: Sweat also contains salts and other bleaching agents that can push the DHA and cosmetic bronzers out of your skin from within. Vigorous excercise, saunas, or generally hot conditions may even visibly transfer some of that colour back onto lighter clothing.

Scrubs: Scrubs & loofahs not only remove dead skin, they can also dry the skin and increase your skin's natural exfoliation process, thereby shortening the life of your gorgeous self tan. We have gentle shower gels available from various suppliers that can help maintain your moisture, and your tan.
Do...
Moisturize: Moisturizing your skin will help maintain moisture levels and slow the exfoliation process, thereby helping prolong your self tan. Even better, add a tinted moisturizer to your daily routine that slowly builds your tan so you never worry about fading, at least until you stop. These products contain very low levels of DHA, so risks from staining are also very mild. You could even do it at night, before bed. Setting times keep getting faster every year.

Mani / Pedi: If you didn't get one prior to your self tan, it's not too late. After your shower, or even the next day may, help prevent or some transfer to your nails that will leave you with stained nails. If it's too late, solid colour nail polish will definitely hide the staining. Unsightly nails are definitely not acceptable at the yoga studio!