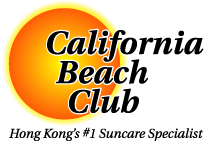 Self Tanning at the Beach:
From pale to tanned and back, we have everything you need to get great self tanning results. We feature the best products from the best brands to help you every step of the way. The Beach brings you California Tan, SunFX and Black Magic to keep you looking your best.
Plus, discuss your process with our professional therapists to answer any questions you may have, as well as some you might not have, to help you achieve professional results at home.
Prepare: To prepare for your self tan, we carry special exfoliating shower gels free of oils that may interfere with absorption of your self tanning product. Many cleansing products include moisturizers to replace moisture lost during the cleansing process, however these moisturizers can also act like a barrier resulting in uneven results.

Develop: Our range of self tanners includes sprays, lotions, creams, mousses, and even mildly tinted moisturizers if you wish to build up your tan slowly over a few days. To keep things less messy, we also have special applicator mitts that keep your solution off the floor and into your skin.

Prolong: To help you keep that great result, we have moisturizers and gentle shower gels to prolong your results.
Remove: When it's time to say goodbye to your self tan, we've got you covered, or should we say, uncovered. We found the best exfoliating mitts around. Combine with special self-tanning removing cleansers, and that subtle patchiness will soon be gone.