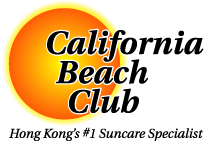 SPF at the Beach:
Why risk your beautiful skin with anything less than an SPF from a sun care specialist? California Tan has been specializing in both indoor and outdoor tanning solutions for more than 30 years. Found only at the best hotels, resorts and tanning centers Worldwide.
Full Cover: All California Tan SPF products are Broad Spectrum, providing full UV protection.

Water Resistant 80 minutes of water resistance built in. Enjoy the water with peace of mind.

Oil & Paraben Free: - The non-oily formulas will leave you feeling smooth, not sticky. (Does not apply to Dry Oil Sprays.)

Free Radical Fighting: Enriched with antioxidants Green Tea and Coleous Root to help protect you from scavenging free radicals.

Moisturizing: Moisturize and condition your skin with the super fruit power of Goji Berry Extract
For Best Results..
There's not so much to remember to keep yourself and your family & friends safe in the sun.
Apply Early: Try to apply your SPF before getting into the heat so the product has a chance to absorb into your skin before you start sweating.

Apply Often: California Tan SPFs offer 80 minutes of water resistance, which may seem like a long time, but remember to re-apply after vigorous activity and keep an eye on the time to prevent accidental sunburn.

Choose wisely: SPF stands for Sun Protection Factor. This implies how much protection each product offers. So, an SPF 4 offers you 4 times more protection than no product where an SPF 20 offers 20 times more protection. Relatively, an SPF 20 offers 5 times more protection than an SPF 4.

Protect the young: Kids should be protected with SPF 30 or higher, and product should be reapplied often for added safety.