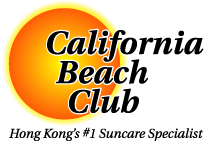 Spray Tanning at the Beach:
Come find out what thousands of satisfied Spray Tanning clients already know. We try our best to deliver the best spray tanning services in Hong Kong.
Clean - We started by specially designing our spray tanning room to include a built in filtration system to keep the air clean and comfortable.

Quiet - Our specialized high-end Italian spray-tanning compressor means a nice quiet environment where communication is easy, and relaxing.

Efficient - Separate adjoining drying room to speed the drying process while allowing you to clearly and easily see your results with our 270 degree mirrors, so you can immediately point out any concerns to your therapist.
But that's just the beginning of the environment we created especially for you.
Professional - Our spray tanning specialists have trained exhaustively to give you the best possible customized spray tanning results. Whether it be a little more colour on your legs, a little less on your face, or accenting cleavage/torso, we're here to help.

Attention to Detail - Special barrier creams to protect fingers and toe nails, plus palms and heels to ensure only the right parts are tanned.

Variety - More solutions than you can shake a stick at. From regular to rapid, light to dark, and chocolate to bronzed to golden, we have you covered.