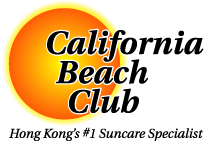 Welcome to California Beach Club..
California Beach Club has been Hong Kong's #1 suncare specialist since 1999. We've since delivered thousands of tanning & spray tanning sessions to thousands of satisfied International and local clients. We've also partnered with 'the beauty place' to indulge and pamper you with wonderful beauty services like spa-quality facials, massage and waxing amongst others, as well as take-home products from some great companies to keep you looking and feeling as beautiful as you are. Even more, we added a great new detox/hydration spaCapsule that can rehydrate your skin on the outside, detoxify your inside, while smoothing and rejuvenating collagen levels courtesy of the red light therapy programs available. Or just try the special 'Pre-Tan' oil & program to maximize your tanning results.
We're always looking to find ways to help make life a little easier, and a little better. Take another look at all our upgrades, try our products & services and let us know how we're doing. We'd love to get even better.